News
Attention June plenary appointment: 12. June 2013
18 Clock with the Greens Leopoldstadt, Novaragasse 7, 1020 Vienna
Women inquiry: "Maskulinismus.Anti.Feminismus" – 7. June 2013
At the 7. June 2013 invites Minister Gabriele Heinisch-Hosek, together with the platform to the next woman 20000Frauen inquiry
"Maskulinismus.Anti.Feminismus "
to Laudon, 1140 Vienna, a.
For more information visit: http://www.frauen.bka.gv.at/DocView.axd?CobId=51171
Reference: Due to space constraints will be asked to sign stating the workshops martina.janich @ bka.gv.at.
The participants are ranked according to the date of application.
If you need childcare or Gebärdensprachdolmetschung, please request this when registering specify.
International Conference 10th-11th 2013
"Practice- and experience on regulatory measures in sex "
Ballroom, Diplomatic Academy of Vienna
Conference program to download here
Conference invitation flyer for download!
Genderraum-Podiumsdiskussion

"

Feministisch herausgefordert

"

at the 11. June (19 to 21 Clock)
in der Buchhandlung Chicklit in 1010 Vienna

With: Alexandra Weiss, Birge Krondorfer, Niki Staritz und Ulli Koch
anschließend Wein & Snacks!

Detaillierte Informationen zur Veranstaltung gibt es hier: http://www.genderraum.at

Hilde Grammel in den

anschlägen

about "

Sexarbeit

"

Sexarbeit, ©Hilde Grammel. Hier als pdf zum Lesen!
The standard, 25. April 2013: Legal quota for women makes sense
Ingrid Gurtner on the legal quotas for women
DerStandard, 18. April 2013: High Heels and other male fantasies
Comment by Brigitte against Hornyik to Thomas Petersen's commentary, by 16. April: Women's quotas and statistics Tricks
The standard, 11. April 2013: Men need to take care not women's issues
see here: Standard
Lecture "The value of the (social) Sex"
The lecture "The value of the (social) Sex" von Prof.. Dr. Brigitte from Rauschenbach 2012 is now available in gender-Online-Archives read the Free University of Berlin.
The platform 20000frauen calls regarding abortion and contraception:
1) Obligation on public hospitals to perform abortions, Reimbursement by the health insurance, Scheme for uninsured women, z.B. Migrants
2) Reimbursement for contraceptives by health insurance, especially long-term methods (Spiral, Implant, Sterilisation), Free delivery in schools and counseling centers, enhanced information and education
3) Removal of the regulation of abortion from the Criminal Code
4) Anchoring a Self-determination of women about their ability to give birth and freedom of access to resources and facilities of family planning and birth control in national and Community law
5) Performance of abortions as an integral part of residency training for gynecologists / inside
More information can be found here!
Solidarity with Greece
Die Initiative Solidarity4all Wien, Attac Austria, Transform and the Castle Cinema invite you to the screening of the documentary "Catastroika".
18. April 2013, 18:00 Clock @ Burgkino (Opera Ring 19, 1010 Vienna)
Catastroika (Documentation 2012)
A year after the creation of "Debtocracy" returned Aris Hatzistefanou and Katerina Kitidi back with a new documentation: "Catastroika". The film discusses the impact of privatization, Greece imposed by the Troika. The two filmmakers travel around the world, to collect data on privatization in different countries and explore the question, what the consequences of the massive privatization program in Greece. Will include interviews with Naomi Klein ("The Shock Doctrine"), Slavoj Žižek and Costas Douzinas shown.
After the screening, a Talk with Giorgos Chondros (Solidarity4all, Athens) and Katerina Anastasiou (Solidarity4all, Vienna) take place.
The film will be shown in Greek with German subtitles.
Admission: Voluntary donation
The net proceeds of the initiative "Department of solidarity" benefit.
Fr, 26.– So, 28. 4. 2013 Symposium
Symposium "Religious identities in post / secular societies" – Interdisciplinary perspectives and feminist negotiations – of 26.-28. April 2013 in the Frauenhetz!
Aktuelles pdf hier als Download
7.-9.3.2013: "Obsessive women" - Wider availability!
Photos here:
The platform - book! "Women's issues: Reflection - movement - Vision "
is im Promedia-Verlag appeared!!!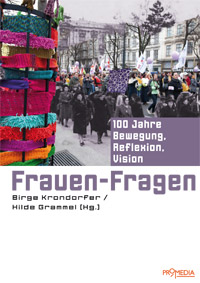 WOMEN'S ISSUES. 100 Annual motion, Reflection, Vision. Hg. in. the "platform 20000frauen". Vienna: Promedia, 2012, EUR 19,90

Other selected feminist dates here!
Solidarity Statement
The platform 20.000 Women joined the Solidarity Statement of the Association Forum Feminist Future and supports the demands of the Vienna Refugee Camp and calls politician * inside to negotiate with Refugees on changing the asylum- laws and strangers on. Read the full statement of support!
One billion rising – We demand an end to violence against women!
The platform 20000frauen took part in the rally on violence against women on 14. February 2013.
See platform -> Investments
Photos of One-Billion-Rising here: