Dr.in Michaela Moser, Activist, Feminist, Optimist - Social ethicist and expert, active at the interfaces of lobbying, Research & Empowermentarbeit, longstanding commitment to Poverty Conference, Vizepräsidentin des European Anti Poverty Networks.
I call and am committed to:
Justice - far beyond equality!
1000 and 1 Opportunities for all women, to shape their own lives and the world in freedom and relatedness.
A good life for all: Nutrition, Stay, Education, physical and psychological integrity, Mobility, Health care, many rational, emotional and spiritual expression, good and well-divided labor- and employment opportunities, fulfilling relationships, You Habe an art, Culture, Politics and Society, Dance, Play and leisure ...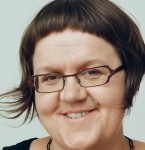 Contact:
Gumpendorferstr. 83
1060 Vienna;
Such. +43-676-544 26 46
michaela.moser[at]armutskonferenz.at
www.armutskonferenz.at
www.eapn.org