On Friday, den 4. March, invited the Parliament Barbara Prammer and initiatives "Women in Business", das "Women's Netherk Media" and the "Austrian Women's Ring" at the 100. International Women's Day in the Vienna Parliament. More than 25 Women's organizations participated.
In this context, took advantage of the platform 20000 Women through their participation in the public presence.
In a flash mob action in front of Parliament on Friday also made some 40 Women of the platform with a 50 Attention meter long banner and open umbrellas to their concerns. "We want to mobilize for the demo!", so the parties. Already 1911 attracted at the first demonstration for women's rights around 20.000 People on the Ringstrasse, 2011 should it again 20.000 will.
The route of the demonstration will lead again along the historic route across the Ringstrasse, The participants gather around 14 Clock on Schwarzenbergplatz. The final rally is to 16 Clock to take place before Parliament.
Men and women in the states can travel cheap by offering "women on the train", ÖBB demonstration. Owners receive a benefit card 60 Percent, all other 25 Percent discount on round- and return to Vienna. Women's organizations and student organizations have also organized buses. Gives detailed information about it on the website of 20000 Women.
More photos from the flash mob action and pictures of the first press conference of the platform, see here.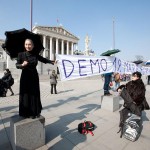 dieStandard article "With the umbrella for Flashmob"